LAZY BEAR WEEKEND 2005
Lazy Bear Weekend 2005: Page 16 of 16
Poolside at Fife's: Dancing until the plug is pulled.
And Remember: LAZY BEAR 2006 is in AUGUST!! Bye for now.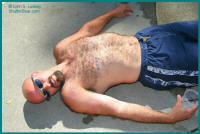 Lazy Bear Weekend 2005
© copyright 2005
Lynn S. Ludwig
* PUHLEAZE respect my copyrighted material. Copying, posting, reselling or any other use of this material without my approval is prohibited by law, and just plain rude. If you are interested in using my images, please write me! Thank you!