LAZY BEAR WEEKEND 2006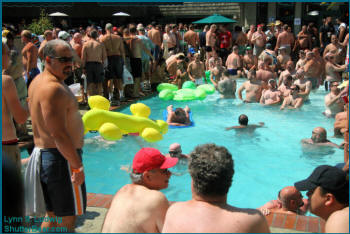 Guerneville is located 75 miles northwest of San Francisco sheltered in the coast range mountains, surrounded by tall redwoods and bounded by the meandering (and too oft flooding) Russian River. This weekend, the summer days were warm and evenings were ultimately cool. The truly awesome atmosphere among the 5,500 or so Bears was as usual relaxed, friendly and festive. Again, I attribute the mellow atmosphere in part to good organization by designating the daily 'hot' and 'mild' sites and the opening of new venues which helped spread out the crowds. In addition to four resorts' pool areas, there were nightly dances, the nightly bonfire at the Campground, evening entertainment, the riotous Sisters' Shirtless Bingo, beer busts and barbecues and more. Tent cities provided their own entertainment; canoeing was popular; wine tasting opportunities abounded; and even beachcombing attracted as the Pacific Ocean is just 12 miles away.
The brainchild of Harry Lit and partner Allen Eggman, Lazy Bear Weekend was conceived as a warm and fuzzy entrepreneurial venture whose goal was to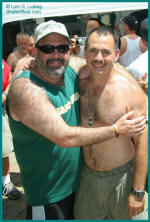 combine the casual fun of a resort weekend with a concerted charitable FUNdraising effort. On this its 11th year, the Sacramento Valley Bears once again co-hosted the event with additional help from the Bears of San Francisco and many others. The few thousand bears converged on every resort room and campground in the area and were as always eagerly welcomed by local businesses -- the Bears had fun, business was very good (the strongest 5-days for the year in Guerneville) and over $140,000 raised for numerous charities.
Lazy Bear Weekend 2006: Page 1 of 16
By the Water in the Sun By the Water in the Sun in a Grassy Field Surrounded by Redwoods in the Sun by the Water: And that is what the next 16 pages are all about. I missed the games and the nightlife, the bonfires and dances. I did what I could in a few hours each afternoon in the brightest of bright summer sunshine. Check out more photos from the Lazy Bear Weekend site. Enjoy!
Lazy Bear Weekend 2006
© copyright 2006
Lynn S. Ludwig
* PUHLEAZE respect my copyrighted material. Copying, posting, reselling or any other use of this material without my approval is prohibited by law, and just plain rude. If you are interested in using my images, please write me! Thank you!