Name: Eric Robert
Email Address: mailto:eric7609@adelphia.net
Located: Buffalo, New York
Age: 33
Height: 6'3"
Weight: 240
Hair: Dark Brown
Eyes: Dark Brown
Marital Status: Happily Partnered with Jeff
Hobbies: Singing, Travel, Music, Computers, Cooking, Gardening.

Rob says:
I love traveling and meeting new people wherever I go. I'm a computer geek just like Jeff; I envision our home to be filled with wireless and automated everything some day, LOL. When I'm not traveling, I enjoy staying home and putting around the house, working on my yard, and cooking a good meal. I've recently been involved in the Buffalo Gay Men's Chorus and hope to return to them soon. I'm into 80's and popular music and love finding new mixes of old favorites.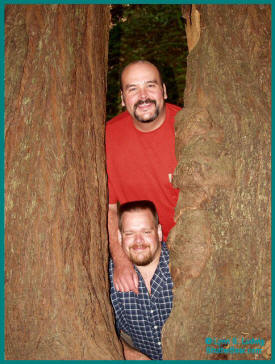 Name: Jeff
Email Address: mailto:jdc@rochester.rr.com
Located: Rochester, NY
Age: 32
Height: 6'
Weight: 240
Hair: Brown
Eyes: Hazel
Marital Status: Happily Partnered with Rob
Hobbies: Home improvement, music (instrumental), travel, poker, reading, computers

Jeff says:
Iíve spent the past 10 years working as a UNIX systems administrator, control systems programmer and currently, an Oracle database administrator. When Iím not in front of a computer, I enjoy spending time with my partner, remodeling our Rochester home, playing viola in a few local orchestras and playing poker (as often as possible).