BIG BASH 2004 in Palm Springs
Bash 2004: Page 1 of 5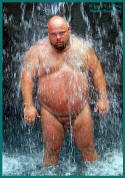 Hosted by BQ Magazine [Big Men's Quarterly] also related to A Matter of Pride, the Big Bash Weekend has been an annual Palm Springs institution for big men and their admirer's for over a decade. Well attended despite unseasonable subtropical rain, the clouds cleared Sunday for a great day in the southern sun. Another similar event will occur in October.
At the Pool, In the Pool, Near the Pool on the Lawn Whenever the Sun was Shining:
* Page 2* * Page 3* * Page 4* *Page 5* * Page 1

Digimarc and the Digimarc logo are registered trademarks of Digimarc Corporation. The "Digimarc Digital Watermarking" Web Button is a trademark of Digimarc Corporation, used with permission.
© copyright 2004
Lynn S. Ludwig
* PUHLEAZE respect my copyrighted material. Copying, posting, reselling or any other use of this material without my approval is prohibited by law, and just plain rude. If you are interested in using my images, please write me! Thank you!