Tucson Fiesta 2004
Tucson Fiesta 2004 Page 1 of 8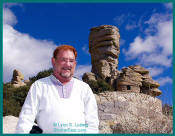 What a great respite from Winter! It is not surprising that many of the 300 attendees to Fiesta in Tucson, Arizona came from the upper edges of the States -- Washington, Illinois, Massachussetts. With temperatures in the 60's and 70's day time, clear skies and a more than generous -sized heated pool, that alone embody a an attractive set of features. But the Bears of the Old Pueblo provide more than that in terms of heart and intimacy, even as attendance has grown over the past couple of years. Across the weekend there are numerous day-trip options for small groups: shopping in Mexico, a the Titan Missile Museum, Karchner Caverns, nude hiking, Indian relics and more. My day trip was a fun and informative jeep caravan into a Saguaro Cactus forest. On another day we went to the top of Mt. Lemmon ski resort stopping for scenic photos along the way. As usual, BOTP also host their non-bear bear contest, an entertaining fund raising venture.
Thursday Gathering [Help Support ShutterBear]
Poolside: Outdoors, big and heated!! A lot of guys spent quite a lot of time here over the weekend, which for many was a good way to melt down from the icy northern winter elsewhere.
*Page 2* * Page 3* * Page 4* * Page 5* * Page 6* * Page 7* * Page 8* * Page 1*
Tucson 2004
© copyright 2003
Lynn S. Ludwig
* PUHLEAZE respect my copyrighted material. Copying, posting, reselling or any other use of this material without my approval is prohibited by law, and just plain rude. If you are interested in using my images, please write me! Thank you!