Bears in The Keys X: 2004
BEARS IN THE KEYS 2004: Page 1 of 9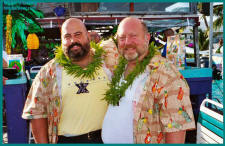 What is this Bears in The Keys event? A little different from other bear weekends, it is not put on by a bear club, although various clubs and organizations support this event. Personally hosted by two gregarious southern bears, Frank & Tonnie, Bears in The Keys is their TENTH and FINAL weekend party in Key West, Florida. Frank and Tonnie have decided that going out on a high on a tenth anniversary is a good way to bring to a close a grand adventure. But even as I type rumblings are that a gathering may yet continue in a collaboration of local resort owners and individuals ready for more. It was odd and a little disturbing to the leave the Keys just before Hurricane Charlie brushed by only to later pass over the homes of some fellow attendees in greater Florida.
The southernmost key south of Florida proper, Key West is also the southernmost land of the continental United States, and of course, this is a key point in its tourist brochures! And Key West is quite the playground. Besides the great little resort of the Atlantic Shores (with pool and pier overlooking the Atlantic Ocean and a most accommodating staff), there is a broad historical and shopping area, gay bars and many gay-run businesses, and some wonderful architecture. An alternate pool venue was offered at Big Ruby's on Saturday. The key also boast various marine activities (snorkeling, diving, parasailing, boat excursions and such). My stamina wasn't there for late evening entertainments like the midnight pool dips in favor of needed sleep, but these were also well-attended options. I did join a merry group on the Blue Q for snorkeling and frolicking on a sandy shoal six miles out from Key West.
FIRST AND FOREMOST - HITTING THE WATER DAILY!
DINER-SHORES: Our Registration included daily breakfast coupons to this Atlantic Shores diner which boast a large painting in the rear of --Dinah Shore!
ATLANTIC SHORES POOL: My one and only complaint of the weekend was that the new management of the Shores early on enforced their no-photos at the policy despite historical precedent. Since I was there primarily to photograph the event, this made me feel uncomfortable and unwelcome. So there are few photos of pool-time at The Shores :( . This conservative and uncompromising attitude seems to be part of a bigger trend on the isle between what I characterize as it's traditional ' laisse faire - la joie de vie' and the T-Shirt Cruise Ship Forces. So paradise is not without its sobering realties.
WEATHER: It was happily a tad cooler than previous weekends [mid-70's to mid-80's with the occasional passing squall]. Some people don't realize that the weather is really rather pleasant compared to the insistent heat and humidity of southern coastal areas like New Orleans.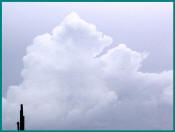 BUTTERFLY CONSERVATORY: Again this year I visited this splendid attraction. A sunny room filled with the flutter of tropical butterflies is really way cool.
HEADING OUT TO BIG RUBY'S: A quaint bus ride takes us to a grand Victorian B&B for an alternative pool party. I love this site with its tropical foliage and pool with a water fall. So this where I will make up for pool pictures not taken at the Shores.
*Page 2* * Page 3* * Page 4* * Page 5* * Page 6* * Page 7 * * Page 8* * Page 9 * *Home*
BEARS IN THE keys 2004
© copyright 2004
Lynn S. Ludwig
* PUHLEAZE respect my copyrighted material. Copying, posting, reselling or any other use of this material without my approval is prohibited by law, and just plain rude. HOWEVER, Web links are encouraged! Thank you!